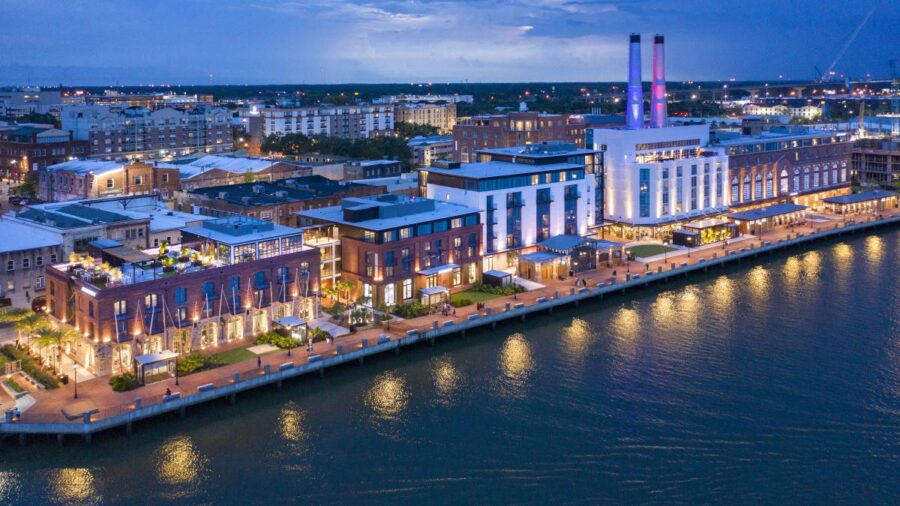 When Tyler Gray reached out to Spark, we were immediately excited about his vision for the Plant Riverside District Entertainment Program. We knew it was an innovative, game-changing way to approach experience for Entertainment Districts. And we knew Spark could help bring his vision into reality.
---
Introducing The Kessler Collection's Plant Riverside District
Plant Riverside District launched in mid-2020 in Savannah, Georgia. The mixed-use property features a gorgeous hotel (JW Marriott Savannah; restaurants; bars and nightlife, shopping and local businesses; and indoor and outdoor entertainment venues. Elevated by stunning and educational presentations of natural history and art, the property design expands the story of Savannah for locals and tourists. And with its riverfront location, the views are spectacularly one-of-a-kind.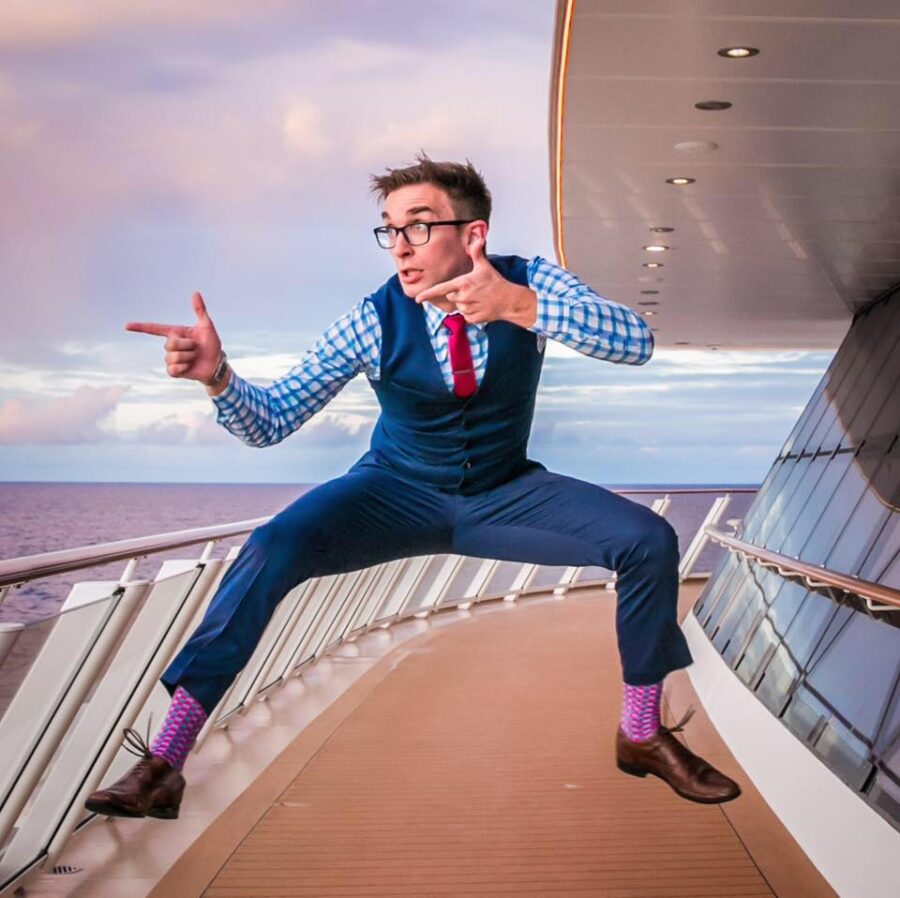 Introducing Tyler Gray, Entertainment Director
Bringing his cruise experience to land was an exciting opportunity for this former Cruise Director (Norwegian Cruise Line). His enthusiasm for developing and reimagining the entertainment product is evident in his work and comes to life in collaborative planning sessions.
When he connected with Spark Cooperative in 2020, Tyler had already conceptualized a well-defined, revolutionary entertainment program. An incredible asset, his cruise perspective gives him insight into the role of guest flow, engagement, and communications into a successful experience for the Plant Riverside District hospitality property. The Daily Newsletter is his go-to tool for communicating the entertainment offerings to guests and locals via the web, mobile, digital signage, in-room TVs, and printed flyers.
Bringing Cruise Ship Energy to Land
There is something magical about sharing a floating city (aka a cruise ship) with people from all over the world. The confine of the space means you make genuine connections with others. From the first day, guests talk to each other on the elevator as long-time friends. (The drink packages help.) Given the constraints of space and time, cruise brands go to great lengths to ensure that there are onboard experiences planned for all audiences throughout the day — and go to great lengths to communicate those activities. An event is only successful if guests know it exists.
For land-based hospitality brands, the challenge is that guests can go anywhere at any time. If they aren't enticed to stay on property, the resort or hotel becomes nothing more than a bed and a shower. A commodity. On the other hand, if you can build an experience on-site, they will be guests for life. Experience leads to loyalty. It also leads to revenue. Guests will pay for top-tier experiences. Even the free experiences lead to additional spend at property restaurants and bars.
Plant Riverside District's Entertainment Program was designed to do just that. As an entertainment district that includes a hotel, experiences are created that keep guests active and draw a loyal local fan base. But central to this approach is their communications strategy, which takes another page from the cruise industry. Literally.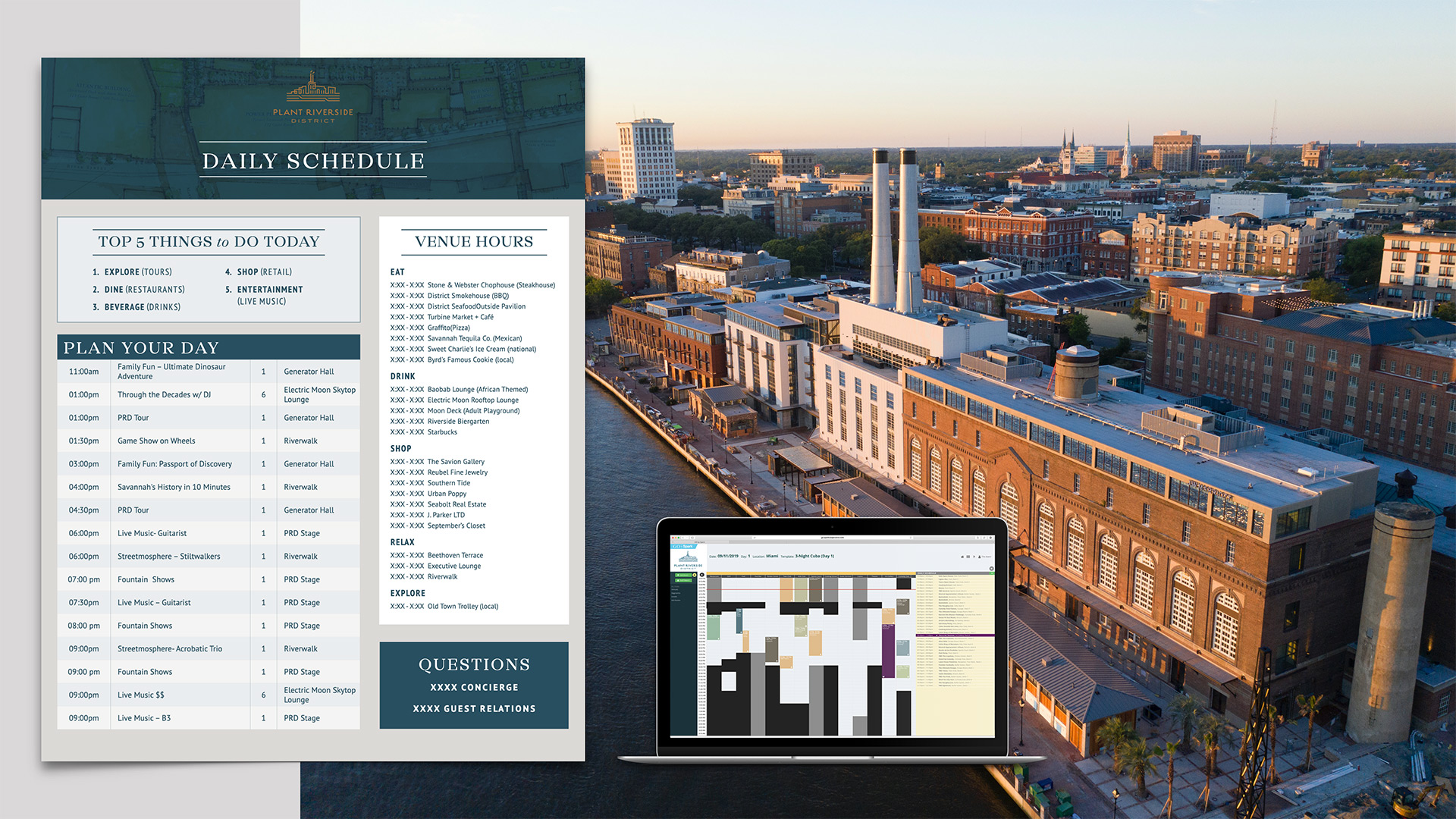 Communicating the Experience
If you have been on a ship, you've likely seen a Daily Newsletter. They go by different names: The Compass (Royal Caribbean), Freestyle Daily (NCL), Fun Times (Carnival). The Daily Newsletter is a flyer, often folded to include four pages, which lists everything there is to do and highlights featured 'not to miss' activities. It also includes information about the port of call. Some ships have moved this Newsletter toward digital platforms, but the communication tool remains essential for guest experience delivery on cruise ships.
One of Tyler's essential tools in delivering the experience to Plant Riverside District guests is the Daily Newsletter. He uses our software, GO by Spark, to organize the weekly entertainment. He then automatically generates the Daily Newsletter from the calendar using GO's Newsletter Template and Content Library features.
This process saves him hours and prevents easy-to-make content errors, like typos or time inaccuracies. Within minutes, a printable version of the Newsletter is ready, and the content is simultaneously shared with digital platforms. The digital signage, PRD website, in-room TVs, and social media all share content created within GO by Spark. Communicating the Entertainment product drives revenue and guest engagement for Plant Riverside District. In addition, it allows for a more rewarding visit to the property, building guest loyalty in the process.
How Can You Deliver a More Strategic Experience Product?
If you'd like a demo of our industry-changing software, GO by Spark, or simply want to tap into our decades of expertise in hospitality experience design, let's chat. 
Or, if you'd like to learn more about how Cruise Industry Insights can help your land-based property, sign up for our free e-book series.
If you'd like to stay in the loop with Spark, join our e-mail list. Or follow us on LinkedIn.