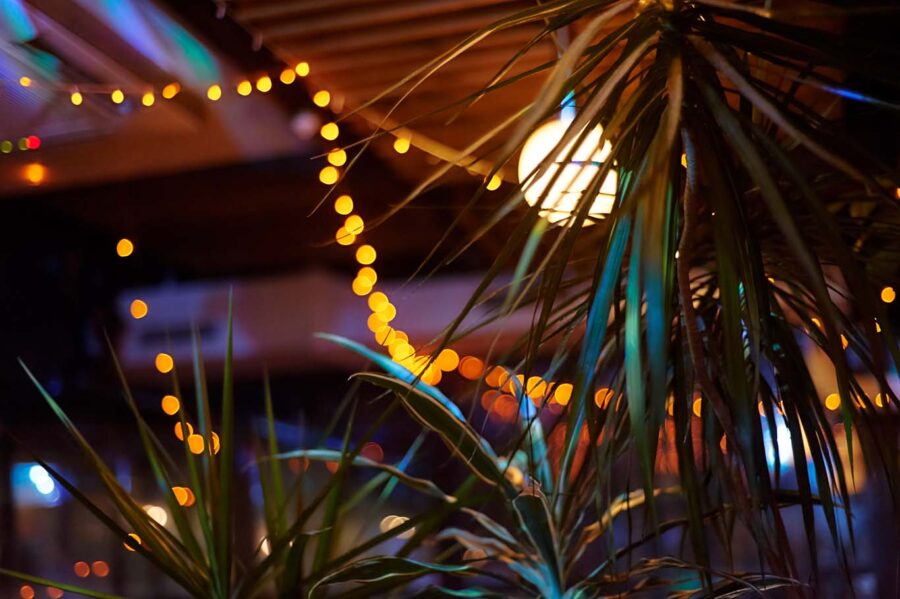 To build a successful hotel, resort, casino, cruise ship, or any guest venue, the experience should define the architecture. Before you break ground, before you have blueprints, plan how your guests will interact with your brand first. When you do, you'll win in these seven important ways.
---
People are told to think outside the box. That's true, it is the heart of creativity. But when it comes to building a hotel, resort, or cruise venue, don't box yourself in from the get-go. Before you ever break ground, before blueprints are put to paper, the first thing you should do is plan your guest experience.
The experiences you develop will drive what types of spaces and facilities you need. Where are your walls? Stages and storage? What kind of lighting and technology will you need? There's a lot that goes into it. If you wait until after construction, you're force-fitting experience into an existing box and while it can be done, it is less costly and more effective to build when you have included strategic experiential thinking from the beginning.
In fact, here are six big wins you can have with an experience-before-build strategy:
Design around guest needs and wants.
You probably know your guest profile really well. Their ages, their purpose for travel, their ethnicities. But how much time have you spent thinking about how they spend their time?

Some of the questions you might ask include:
Why do guests want to spend time with you?
What do guests need from you and what do they want from their visit to your locale overall?
How will they spend a day on your property or in a specific on-site venue?
Why should you think about their time? So you can create the spaces they don't even know they need. So you can facilitate the best overall experience for them that fosters loyalty (and five-star reviews). And so you can offer reasons to visit that attract them to you in the first place.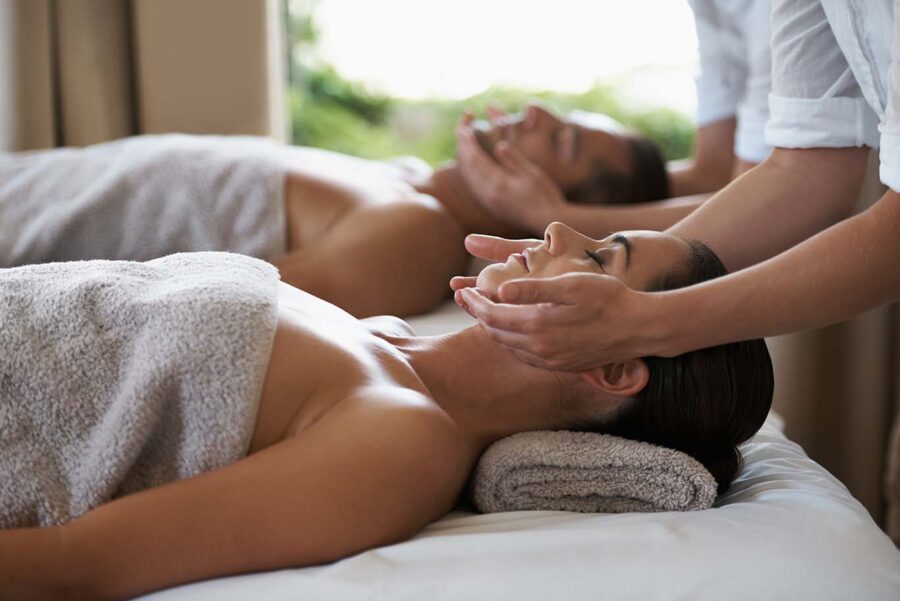 Be strategic about revenue.
Designing around the guests' wants and needs means you are delivering to them the things they are looking for (or maybe don't even know they want until they see it). By doing so, you are keeping them at your venue or property longer. Making them happier. Be strategic around what stories will attract guests and upsell on experience. It's a win-win for you and your guests.

Read more about increasing revenue by increasing guest dwell.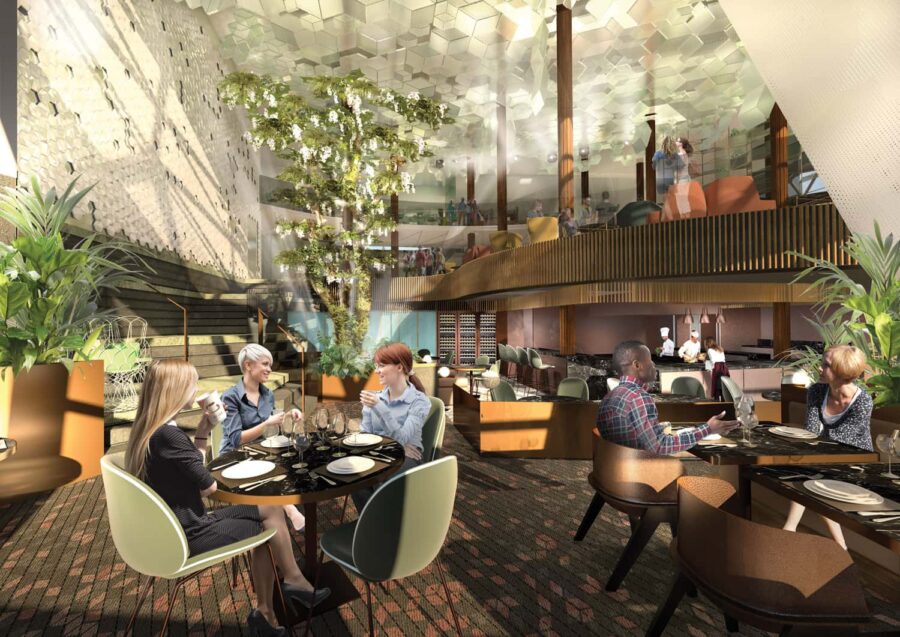 Create multi-functional spaces.
Create spaces that change purpose throughout the day, never feeling like a dead zone. When you create multi-use spaces, it allows for immediate flexibility, but it also expands possibilities of what you can do in the future. "We say in the industry, 'create multi-useful spaces, not multi-useless spaces.' When you do, it allows you to develop even more concepts for your demos," says Charly McDonald, Spark Principal.

Modern cruise brands are building entertainment outside the theater spaces. A theater that hosts traditional night-time stage productions typically keeps guests sitting with one drink (often a glass of wine or beer) for an hour as passive spectators. Rinse and repeat for the second sitting of the same show (new guests, same deal). For most of the remainder of the 24-hour period, that theater sits empty. On a cruise ship, that space is hard to come by.
Hence the birth of non-traditional entertainment outside of the theater. The hybrid lounge hosts guests all day for food, drinks, and conversation. It feels alive and is activated from dawn to dusk when it becomes a performance space. Non-traditional seating leaves guests feeling part of the show, versus passively watching. They are happy to get drink refills – often of fancy, themed cocktails. And shows are designed for their participation, leading to social sharing of photos and video and to a sense of belonging. Guests see the performers later in their cruise and greet them enthusiastically – they have formed a connection to the "stars" of the show – and to the brand. Wonderful examples of these are Celebrity Edge's Eden and Royal Caribbean's Two70°.
But the cruise industry isn't the only hospitality industry that needs to be strategic with its spaces. And empty spaces cost more than lost revenue opportunities. They leave hotels, resorts, and casinos feeling deserted. Creating multi-use spaces keeps your property feeling right-energy (sometimes high-energy, but sometimes chill vibes) and exciting for your guests throughout the day.
Plan full days and full stays.
Design a full calendar of reasons guests will choose to stay and visit with you before you build walls. You will have a clear picture of how to make money and what venues you need to support the guest experience. Maybe you need a retractable mini-stage for hosted events. Maybe you need a coffee shop workspace for working travelers with chargers at every table.

By strategically activating spaces throughout the day and week, you create a sense that there's always something going on – that if I leave the property, I'm missing a good time. But you are doing it economically, not all spaces need to be activated all day. Designing guest flow allows you to be smart and not over-activate. GO by Spark, is a software suite we created to help properties be smart about activating spaces (among other things). As consultants to new brands, we use this tool internally to build out calendars of events for our clients.
Tell the story to the investors.
We have worked with several confidential clients at the pre-investment stage. They had an idea for a new experience property (on land or on sea) with a vague idea of what the experience might be. Maybe they had plans for the type of entertainment they wanted. Or maybe they had intellectual property to feature but weren't sure how.

By thinking through the overall experience for their property, they were able to share a vision of the future to their investors that looked like marketing materials for an existing product, making the "ideal" feel real. We painted a picture of what a vacation would look like that sold the concept and got them the money they needed to move forward. In addition to painting the picture, Spark was able to provide venue concepts for white spaces, design activity, event, and production show concepts, create a brand story, and even estimate capital expense, production operations, and staffing budgets.
Tell the story to architects and designers.
You know how you want the space to feel. How do you convey this to your design team? Experience designers can paint a vivid picture for them to activate all their senses.
Most of our new product development clients already have an architect and interior design team. Experience thought guides the requirements served to those teams to inform smart design. For example, what types of interactions will happen here?

For Atlas Ocean Voyages, Spark thought through the Wellness Cafe area, which they wanted to serve many functions throughout the day. In the morning, it was a quick breakfast and smoothie bar — a nice start to the adventure. Often, that type of space at a property is very busy in the morning, somewhat busy for lunch, but dead in the evening. Spark activated it for the full day (including late-night) and created a storyboard with imagery and narrative to communicate that to the brand's partners. We also detailed the functions and experience requirements for the space, down to the seating arrangements needed to serve all of the venue's activations.
Avoid costly design changes and build delays.
A better briefing for the architects and designers means fewer change orders down the road. Thinking through the reality of the vacationers' experience on your property allows for that better briefing. It allows for the prioritization of functional design requests since it contemplates the real impact of the design.
---
How Spark Can Help
We've helped a lot of hospitality and retail brands bring an experience-first strategy to their design and development. Whether you're just getting started or you have an existing venue you'd like to repurpose, our team has the knowledge, ideas, and expertise to deliver the engaging entertainment and activations that will keep guests coming back. Interested in learning more about what Spark can do for you and your property? Schedule a free no-strings-attached conversation with us today.